The Doctor
Dr. Anita R. Daswani (LCEH, FRCH) graduated from Mumbai University with first class honors in Homoeopathy in 1979. She began her journey in medicine by joining the famous Homoeopath, late Dr. Rashid Wadia, the son of the late Dr. Sarosh Wadia who was the first to introduce Homoeopathy in India. She acknowledges him as his mentor, to this day. Under his expertise, she treated numerous patients and, in due time, was able to successfully cure them of their ailments.
As years went by her quest to do more grew and she started her independent practice. Her academics and experience made her realize that Homoeopathy was either the only or one of the best solutions for many diseases/ailments (such as early hypertension, early diabetes, irritable bowel syndrome, sleep disorders, skin and respiratory allergies).
Dr. Daswani's sensitivity and affection encouraged her to treat 'differently abled' young adults and children with 'developmental disabilities'. Since over two decades, she has frequently visited a special-needs school in Mumbai. She is rewarded not only through improvements in the health and habits of them, but also by the life-long relationships and connections that she's able to foster. She spends one Sunday every month, treating underprivileged patients free of charge and conducts various medical camps for them. Her love for serving all has no boundaries. Whether it be the young or the old, the have or the have-nots & even domestic pets, she goes out of her way to help alleviating suffering and pain.
Her recent association and experiences in corporate offices have allowed her to witness the numerous lifestyle diseases and negative health effects associated with long work-hours, stress, and competitive careers. By 'being available on site' she's able to catch unnoticed & ignored aliments of patients who due to sheer lack of time are not able to go visit a doctor. Very good in counseling, she is able to help those in the corporate world go through their challenging phases in life.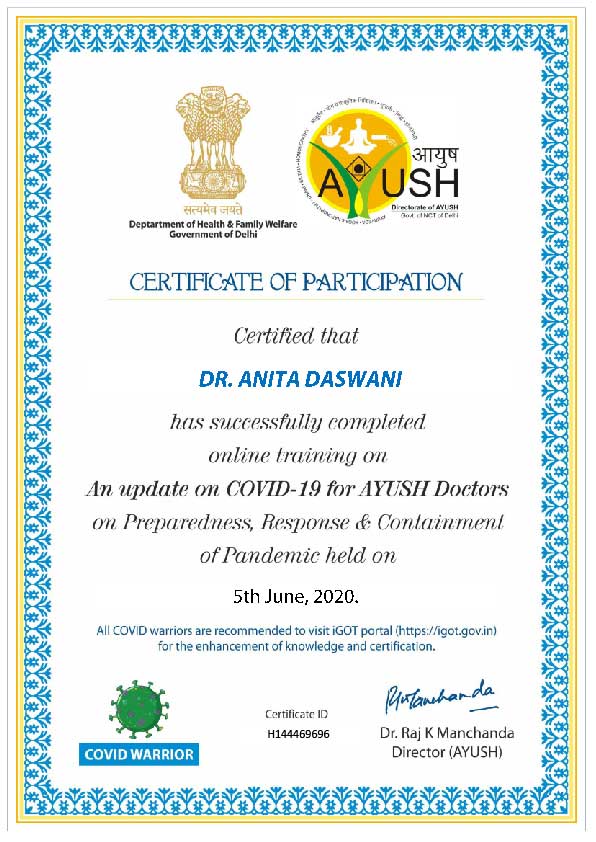 NATIONAL CENTER FOR HOMEOPATHY
The National Center for Homeopathy (NCH) is a 501(c)3 non-profit organization dedicated to promoting health through homeopathy by advancing the use and practice of homeopathy. NCH provides education and builds awareness while advocating for access to homeopathy. As the host of the annual Joint American Homeopathic Conference, NCH plays an important role in the continuing education of practitioners and introductory education of consumers.